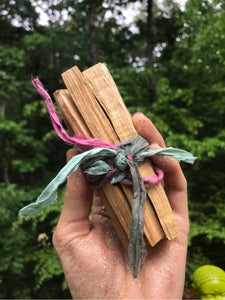 PALO SANTO STICKS (5)
Regular price $0.00 $10.99 Sale
Smudging is an ancient ritual in many cultures, typically performed with sage bundles & palo santo wood. 
Burn the sage to rid your home of stale, negative energy. 
these white sage bundles have rainbow rose petals on them.
5 natural palo santo sticks wrapped with sari silk.
Burn sage to get rid of negative vibes & burn the palo santo for new beginnings and as natural incense. Quartz Crystal is a cleansing stone that will clear your thoughts, after you meditate with it you may want to cleanse it in the moonlight and smudge it with sage. .
* make sure to put them out fully before ever leaving the room! I like to spray them with a little water before I put them down.
Your bundle will be mailed via USPS first class mail with tracking.

Make sure you put the sage and palo bundle out with water after each use.